[insert_php] echo do_shortcode('[product_list cat="10foot"]' ); [/insert_php]
Buyers Guide to Trampolines
Who hasn't had a bounce on trampoline at some point in their lives? They are fun and a great way to get some exercise that is relatively low impact on the joints too. Children of all ages can spend hour upon hour bouncing around on them. Thanks to a wide variety of types and sizes pretty much everyone can own one. The basic make up of a trampoline is very simple, it is a piece of strong fabric that has been stretched taut using a steel frame and coil springs. The fabric that you jump on is commonly referred to as either the trampoline bed or bounce mat and it isn't elastic. The bounce comes from the springs that the fabric is attached to. So, what types are there? And just how long has the humble trampoline been around for?
Bouncy Beginnings
The first real modern version of a trampoline was built back in 1936 by Larry Griswold and George Nissen. Griswold was a tumbler on a gymnastics team and Nissen was a gymnastics and diving competitor, they both attended the University of Iowa in America. Their idea came about from watching trapeze artists who would use a net that was stretched tight to add extra flair to their performances. Their design was simple they used a piece of canvas, inserted grommets along the sides at an angle and attached it to an iron frame by using coiled springs. The original idea was to help tumblers train but the use of this first trampoline soon become popular in its own right. The name came from the Spanish word 'trampolín' which translates to diving board.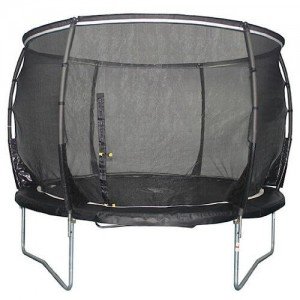 Nissen and Griswold then created Griswold-Nissen Trampoline and Tumbling Company in 1942 and began making commercial trampoline in cedar Rapids, Iowa, USA. A common name for the trampoline was a rebound tumbler and the sport of rebound tumbling began, over the years however the trademark of the word trampoline was lost and it has become the generic word used to describe this piece of recreational equipment.
Trampolines were used to help train pilots and navigators during the second World War, it was used to give them practice in spatial orientation something that has not been possible before the invention of the trampoline. Competitive trampolining has been around for some time however it only became part of the Olympics in 2000.
Types of Trampoline
Believe it or not there are 8 different main types of trampolines around today, some companies do create their own shapes such as oval and octagonal,  these include the following:
Round Trampolines – These are the common ones you will find in people's gardens, they will usually have a mesh surround to prevent the bouncer from falling off. The round design also help to push the bouncer back to the centre of the mat and this also helps to prevent any injuries from occurring.
Rectangular Trampolines – These ones are used by semi-professional and professional gymnasts. They give a different type of bounce due to the shape and this is why they are used by the pro's. They are more expensive than the round version but can be used at home if you have limited space in the house or garden.
Square Trampolines – This type is the best if you really want to experience a great bounce. They have a large surface area and are very safe to use, however they are also more expensive but you won't regret a penny spent on it once you start bouncing.
Springless Trampolines – This design came about due to the number of children that have been injured by the springs if they became exposed during a bounce session. This is the safest type of trampoline to have at home but it is also the most expensive by far.
Mini Trampolines – These are generally used for a variety of home, or gym based work outs and are great if you have limited space and it is estimated that bouncing is around 60% more efficient than jogging.
Inflatable Trampolines – These are usually water based trampolines which can make a day on the lake that much more fun. They are rather expensive but there are services which will allow you to hire them at a reasonable cost for the day.
Toddler and Child Trampolines – These can vary from small square ones with the handle to hold on to while bouncing to slightly larger ones with a mesh surround that is low enough to the ground to allow them easy access. They will have extra safety features and more padding than standard trampolines to make sure the child is as safe as they can be while they are on it.
Bungee Trampolines – These ones will usually be found at fair grounds or other such events, the bouncer is strapped into a harness and can bounce as high as they want as the harness will keep them from injuring themselves.
In Ground Trampolines – These are very similar to round, square or rectangular ones but these are at ground level and do not require an enclosure around them. However, it is a good idea to have some crash mats around the trampoline to prevent accidents from occurring.
With all that choice, it can be a bit confusing knowing which trampoline is right for you. In order to narrow down the choices, you need to ask yourself a few quick-fire questions;
Who will use it? – If the intended use is solely for an adult for exercise purposes then a mini trampoline would be the right option. However, if there is going to be any children using it you may want to consider a round one that is a suitable size for your home or garden.
How often will it be used? – There is no point buying a really expensive trampoline if the chances are it will get used maybe a few times a month. Similarly, if you are going to be using to practice a routine and your goal is to go pro then you shouldn't be too shy with the cash your willing to splash on it.
Where is it going to be kept? – If you have a small garden then you will need a small round or rectangular one so too don't lose too much space.
Make sure you have a good think about these above mentioned questions before jumping into a purchase. The last thing you want is to end up with something that isn't suitable for you needs in the long run. Below are some examples of the different types with approximate prices. Please note prices are correct at the time of writing this and are subject to change without prior notice.
Round Trampolines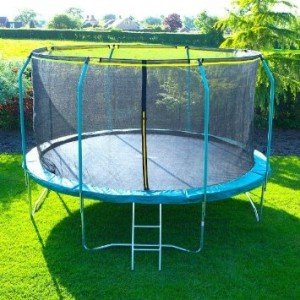 With round trampolines, all of the springs used are at the same rate and this gives you a more even bounce effect. It also gives a softer and more stable bounce than a rectangular one and this makes this shape more suitable for children to use as the likely hood of injury is greatly reduce. It also helps to push the bouncer back to the centre which also help to help them safe. As for June 2015, all trampolines sold must have an enclosure so bear this in mind when purchasing one.
The average sizes for round trampolines vary from 8 foot in diameter up to 14 feet. However you can get some as small as 4 feet and some larger than 14 feet.
8ft Skyhigh Trampoline with Enclosure
This is an 8 foot round trampoline with a bounce mat area of 18.3 square feet. Its features include:
48 Coiled Springs
Bounce bed is made from Polypropylene and has a thickness of 21mm.
It can handle a maximum user weight of 16 stone or 100 KG.
The frame has a 5 year warrant and all other parts have a 1 year warranty.
This unit retails at around £150.
14ft Skyhigh Trampoline with Enclosure
This is the bigger brother of the previous one and is 14 feet in diameter and has a bounce area of 113.1 square feet, its features include:
80 Coiled springs
Bounce bed is made from Polypropylene and has a thickness of 21mm.
It can handle a maximum user weight of 16 stone or 100 KG.
The frame has a 5 year warrant and all other parts have a 1 year warranty.
This unit retails at around £225
These are just two examples of round trampolines and the prices for these can vary greatly depending on where and when you look at buying one and of course the make and model you choose.
Rectangular Trampolines
Rectangular trampolines offer the more traditional trampoline shape and have the benefit of being able to fit more easily into corners of the garden. The big difference is the level of performance they give over the round ones. The shape means the bonce is focused on the central area, this is determined by either a company logo or cross. If you keep bouncing off of that one spot you will find that you can go much higher than with the round trampoline.
This is why this is the trampoline of choice for those who are completing as it gives them more height in order to perform more acrobatics. This type does not however have the ability to push a bouncer back to the middle and this make it is even more important to make sure you buy one with an enclosure. A couple of examples of this type of trampoline are as follows: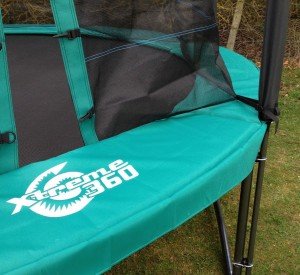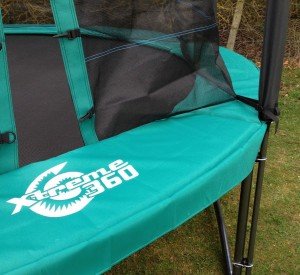 10ft x 7ft Skyhigh Rectangular Trampoline with Enclosure
This trampoline is 10 foot in length and 7 feet wide and has a bounce area of 40 square feet. The other features it includes are:
68 Coiled Springs
The bonce mat is made from a polypropylene mesh fabric with a thickness of 30mm.
Maximum user weight is 16 stone or 100KG
Frame warranty is 10 years.
All other parts have a 1 year warranty.
This trampoline currently retails at around £365.
17ft x 12ft Jumpking Rectangular Trampoline with Enclosure
This is a monster of a trampoline at 17 feet in length and 12 feet in width and has a bounce area of 150 square feet.
A ladder is included.
It has 144 coiled springs
It is made from heavy duty polypropylene permatron with a 20mm thickness.
It can handle a maximum user weight of 22 stones or 140KG
The frame has a 10 year warranty.
The springs and bed have a 5 year warranty
The pad and net have a 2 year warranty
This trampoline currently retails at around £800.
This comparison gives you an idea of not only the difference in price from round to rectangular but al so the difference between brands as well.
Square Trampolines and Springless Trampolines
This type of trampoline is perfect for families with small children or where you would rather keep the bounce height under control. Due to the fact that in most cases the springs will be crisscrossed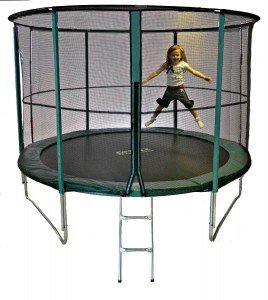 it makes the overall bounce harder and prevents any great height being obtained. This is not a commonly found shape in UK and you will need to do extra research in order to find a retailer that stocks it.
One that I did find however was the large square smart trampoline by Springfree Trampoline.
This is an 11 foot by 11 foot square which has a bounce mat area of 113 square feet in total.
It can handle a total use weight of 16 stone or 100KG.
Flexible rods in place of springs
It has a soft edge mat that is more shock absorbent that foam pads.
The frame is below the jump area so there is no chance of landing on it.
Flexi net encolousures also help to prevent injuries as there are no steel rods to hold it in place.
This particular trampoline currently retails at around £1,295 just for the trampoline. If you want to add in additions extras such as wheels, ladder, anchor and installation the price can go up to £2,165.
As you can easily see the price is vastly different from the other two types and from all other spring based trampolines.
https://www.youtube.com/watch?v=Qy8Ghda-I34
Mini Trampolines and Children's Trampolines
Mini Trampolines
Mini trampolines are generally used for exercise purposes but can be used for fun too.
Rebounding as it is known in the exercise world is a safe and effective form of low impact exercise. This type of exercise has a lot of proven benefits such as being great for your muscles and joints, it is a good form of cardiovascular workout and helps with spatial awareness. It is also thought to be a good way to relive stress and a great way to help you lose weight as it can increase hourly calories burn by up to 320.  An example of this type is:
Physical Company 40″ Rebounder Trampette
This rebounder, or mini trampoline is a great way to add extra resistance to your training and has heavy duty non-slip rubber feet for extra stability.
It has a diameter of 105cm, 40" or 3.4 feet.
It can handle a maximum user weight of 23st and 9lb or 150KG.
It has a compact design which makes it easier to store when not in use.
This product currently retails at around £110.
Children's Trampolines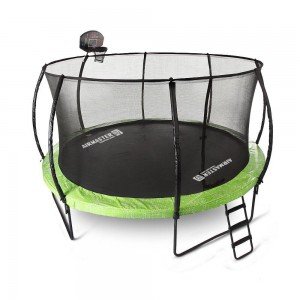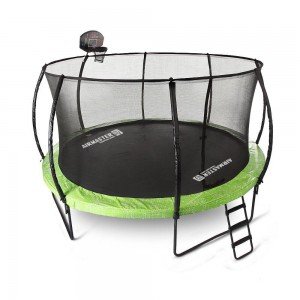 Children trampolines vary a great deal from the ones you can use indoors to larger lower to the ground versions of the round ones mentioned earlier. Here are a few examples of what you can buy if you are looking for a child friendly trampoline.
Chad Valley Kid's Junior Indoor Trampoline
This is ideal for young bouncers, it is brightly coloured and uses stretch-tech design ensures your child will have a safe and fun bounce experience. This is the square shaped type that has a handle for the child to hold on to whilst bouncing.
There are safety mats around the outside
Very easy to put together
The maximum user weight is 21KG and is suitable for children over the age of 3.
This product currently retails at around £30.
Chad Valley 4ft My First Trampoline and Enclosure
This one is a mini round trampoline that is lower to the ground to make it easier for smaller legs to climb on board.
There are safety pads around the edges.
It has a diameter of 122cm or 4 feet.
It is suitable for 1 person to use at a time and is recommended for ages 3 and upwards.
The maximum weight it can handle is 25KG
This model currently retails at around £50.
Jumpking 14ft Butterfly Tent Canopy/ Star Tent Canopy
This last example has a larger surface area and comes with either a butterfly purple and pink canopy for the girls or a blue star canopy for the boys.
It has a UV protection level of 30+
It is recommended for single bouncers ages 6 and upwards.
It has 3G poles to help give it more stability.
This product retails at around £75.
These are just a few of the choices out there for younger children and once they progress and get bigger you can swap them to a standard round trampoline.
In Ground Trampolines
In ground trampolines are a great way to save on space and make the trampoline last as it can be used by young children and older ones alike. This type also has the benefit of not being an eyesore in the garden and can easily be covered when not in use. Please bear in mind that you will probably want to have some safety mats around the trampoline while in use just to be on the safe side.  Some examples of this type are as follow:
Evostar 6ft In-Ground Trampoline
It has 3 legs to stand on while in the hole in the ground.
It has extra thick UV treated padding around the edges.
It has a heavy duty Permatron polypropylene mesh mat that is the highest grade of mat available for trampolines.
It has a 1 year warranty
It is recommended that only 1 person at a time uses this trampoline.
This product retails at around £100.
BERG Talent 10ft In-Ground Trampoline and Safety Net Comfort
This in ground option comes with an enclosure and can be places in the ground or on it, whichever is easier.
This trampoline is suitable for children aged 6 and upwards
It can handle a maximum user weight of 70KG
It has a self-closing net for extra security
The mat is made from weatherproof PVC
The frame has a 5 year warranty
The jump mat, springs and net have a 2 year warranty
The protective edging has a 1 year warranty.
This product currently retails at around £320
These are just two examples of this type there are others which go up in tot early one thousand price wise.
Hopefully this has given you some insight into the world of trampolines and the sheer range that is available. I know I haven't covered the inflatable or bungee trampolines but as these are less likely to be on anyone's shopping list I felt it was justified in leaving them out. As I have already mentioned take your time to recognise what you want the trampoline for before jumping into it and getting something that will no longer be of any use in a few months. As with any purchase research the final choice to make sure you not only get the best deal possible but that you are getting the best quality possible for the money you are willing to spend on it.